PRESS RELEASE
02/09/2019
EUROPEAN PROJECT MILE RESEARCH WITH EMPLOYERS
PUBLISHED NOW
"Voices of European Employers: Challenges and benefits of the inclusion of migrants in the labour market. Evidences from Italy, Austria, Greece and Spain."
The project MILE Migrants Integration in the Labour market in Europe – funded by the Asylum, Migration and Integration Fund of the Europen Union and promoted by ICEI (Italy), in partnership with 7 organisations in Italy, Austria, Greece and Span – aims to develop, implement and mainstream an effective model of integrated services for the inclusion of Third-Country Nationals in the labour market, based on multi-sectorial competences, mobilisation of actors and migrants' cultural, social and economic needs.
From March to May 2019, MILE partners carried out a desk, quantitative and qualitative research with employers, engaging 171 employers (including some associations of employers) in the 4 countries. Main areas of investigation included: 1) challenges, obstacles and opportunities for third-country nationals labour integration; 2) needs of the employers in terms of diversity management; and 3) skills and occupational profiles needed by companies and the labour market.
The aim of the MILE research was to take a snapshot of current experiences, challenges, needs and reccommendations in the targeted areas. Among key findings: scarce knowledge by employers on hiring policies that encourage diversity; legal issues and the restricted right to work in host countries, as well as little knowledge of host countrie's language by migrants, indicated as main barriers in employing non-EU workers; a very positive experience by companies who have employed/are employing third country nationals.
To know more about these findings, visit our website and read the Executive Summary or the Complete Research published here.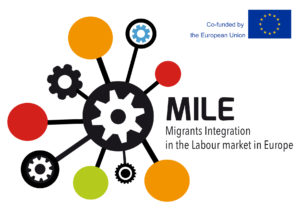 Contacts
WEBSITE www.projectmile.eu
EMAIL comunicazione@icei.it
FACEBOOK facebook.com/MILEProject/
Matilde Spoldi
Area Italia\Europa
ICEI – Istituto Cooperazione Economica Internazionale
Via Cufra 29 – 20159 Milano
Tel. +39 02 25785763 int. 68