The project partners of Job to Stay invite to their final conference!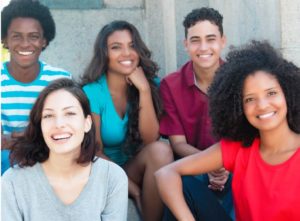 Many organisations, initiatives and projects search for ways to successfully integrate refugees. The Erasmus+ project "Job to Stay" paid particular attention to the integration of female refugees into the tourism labour market and the social life. Now, the project slowly reaches its deadline. For this reason, we want to look back and use the chance to carry the project idea further on in the future. The project partners will share their findings and discuss with experts from economy, politics, science and society to find joint plans for a sustainable conduction of the common objective. 
 Since 1 October 2017, nine international partners have been looking for successful ways to integrate female refugees into the labour market and social life. The interdisciplinary project team gathered many successful stories; numerous women and also some male refugees have already been integrated into the tourism labour market sustainably.
Let's celebrate together: all interested people from economy, society, education and policy are invited to the final conference of Job to Stay on the 20 September 2019. The conference allows room for common exchange of experiences in the integration of refugees, a sensitization on all levels, but also the presentation of successful examples as flagship projects for others. The project results of Job to Stay will be presented, but the programme also offers a comprehensive look at the integration of female refugees from employers' and employees' points of view. The Ministry for Social Affairs, Integration and Equality of Mecklenburg-Western Pomerania will also be able to report on its experiences of recent years.
 Surely, no one could ignore the news about the integration of refugees in the last few years. It is spread nearly everywhere and lots of projects are dealing with ways to cope with this challenging situation. So do we – "Job to stay" is focussing on female refugees and searched for ways to get them integrated into professional but also social life. We're sure that we're not alone in this, so let's find synergies and spread the knowledge among each other. After two years we can look back at some success stories and want to share our experiences with you! You are welcome to join our final conference on 20.09.2019 in Schwerin (Germany). You can find some more information on the project at our website www.jobtostay-project.eu or via Facebook www.facebook.com/Jobtostay/ as well as in the program attached.

Job_to_stay_newsletter3_EN.pdf