The 4th Newsletter in VETWork has been published lately with the latest news of the project: the activities delivered in IO4 that is about performing digital classes for VET students of different ages and the successful multiplier event organized in Budapest that presented the main results to VET teachers, educational officials, principals and decision makers.
More than 50 teachers took part in the pilot course, and for about 800 students were involved into the classes supported by digital tools that applied one of the innovative teaching methods published on the Digital Menu Card.
The teachers were also asked to find open educational resources, or create their own interactive, multimedia learning materials for their classroom work and share them with the learning community on the online collaborative platform developed inthe project: Digital Menu Card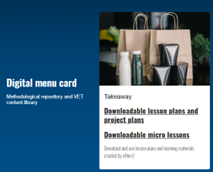 After the lessons the teachers analysed and summarized their experiences in a self-reflection report, including the opinion of their students, who were asked about the new teaching method and the impact of digital tools on their understanding and quality of learning as well.
"Even so, the lesson was definitely better than a non-digital lesson, with two students remarking at the end how quickly the time flew by. In my experience, students are always more motivated when digital tools are used in class or during homework, and the cherry on the cake is that I really enjoy these lessons."
(Viktoria László, SZÁMALK-Salesian Post-Secondary Technical School, Hungary)
For more details, please see the 4th project newsletter in the attachment.