The structure of the future TwinRevolution training course, pillar of the future e-training, has been launched after the approval of all partners. The Joint Curriculum, based on the previous industry needs analysis, is the result of a cooperative work among all project partners that have design the learning pathway to ensure a good knowledge understating on what is and how to implement a twin digital and green transition on companies of the manufacturing industry, with special focus in the furniture and textile sectors.
The Joint Curriculum divides the future learning course on 4 different training modules, with a total of 50 learning hours. Each module is composed by several learning units, that address the previously defined learning outcomes.
The 4 learning modules are:
Twin transition introduction: towards a green and smart manufacturing industry
Circular economy applied in the manufacturing industry
Industry4.0 technologies in the manufacturing industry
Twin green and digital transition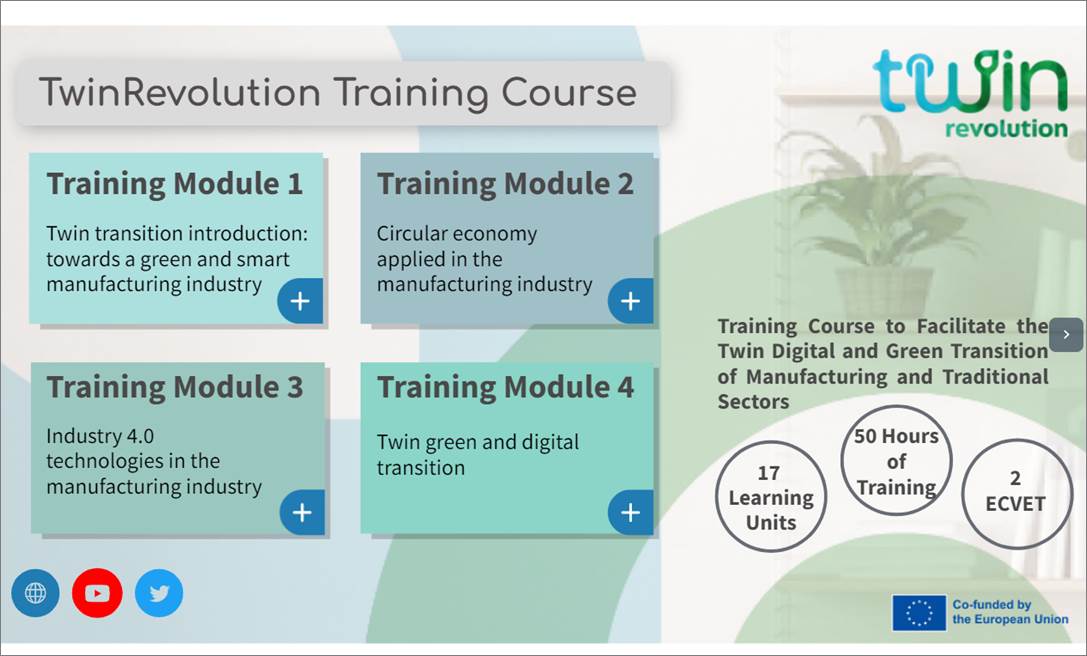 See here the complete Joint Curriculum: https://view.genial.ly/63ecea4726292f0018aae6a3
More info about the project: https://twinrevolution.eu/
Juanjo Ortega Gras

Proyectos Internacionales

International Projects

Este correo electrónico contiene información privada y confidencial. Si usted no es el destinatario del mensaje no está autorizado a leerlo, copiarlo o difundirlo. Si lo ha recibido por error o no desea que se le envíe más información a esta dirección de e-mail, por favor contacte con el remitente y destruya su contenido.

CIT Nº83 OTRI Nº165

Privileged/confidential information may be contained in this e-mail. Any reading, copying o dissemination of this communication by persons or entities other than its intended recipient is prohibited.,If you received this in error or you don´t want to receive emails in this direction, please contact the sender and delete it.