Integrate2EU (Developing Innovative Approaches for the Social Integration of Female Migrants) project aims to improve the social inclusion of immigrant women through the development and improvement of their competences (social, cultural, values, organizational, educational, etc.). To increase the social integration of immigrant women, Integrate2EU aims to strengthen the participation of women immigrants in language and vocational courses within adult schools, on the other hand, to create a migrant centred approach in these schools that takes into account the needs, sensitivities and sociocultural characteristics of immigrant women.  In addition, employers are important actors in increasing the visibility of women migrants in the professional and so social field.
Determining the needs of employers, informing employers about immigrant workforce and creating a link between employers and immigrants will provide a holistic approach to strengthening women's employment and social visibility.
The project is co-financed by the Erasmus + Programme of the European Union and is implemented, between September 01, 2020 – January 31, 2023, by a transnational consortium led by KUTAHYA DUMLUPINAR UNIVERSITESI (Turkey), which includes partners from five other countries Cascade Félagasamtök (Iceland), Cumbria Credits Limited (United Kingdom), M&M Profuture Training SL (Spain), INSTITOYTO BIOMICHANIKIS KAI EPICHEIRISIAKIS EPIMORFOSIS KAI KATARTISIS SEV SYNDESMOS EPICHEIRISEON KAI BIOMICHANION (Greece) and EUROPEAN CENTER FOR QUALITY OOD (Bulgaria)
Migration is a phenomenon that is part of the actuality of Europe. The European Commission has adopted an Action Plan on 2016 that includes actions about education, language training, teacher training, civic education, employment, vocational training and also actions to promote early integration into the labour market and migrants entrepreneurship. There is still a lack of policy focus when it comes to the integration of migrant women. Although adult schools play an important role to acquire basic and professional skills, the rate of participation in the courses is limited for immigrant women as the current education structure does not specifically focus on needs of immigrants.
Integrate2EU project will design a Digital Tools for Social and Occupational Integration of Female Migrants and an Alternate Intercultural Communication Guidebook for Trainers who Teach Migrants.
Taking into account the aforementioned, the project TARGET GROUPS are:
Adults immigrant and refugee women
Adult school staff
Employers (small and medium sized enterprise)
The institutions who have the political responsibility for adult education and immigration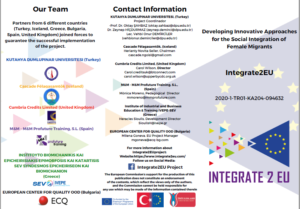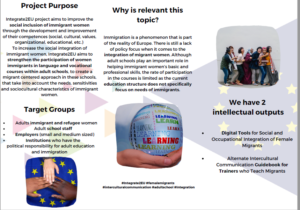 Follow us for knowing more about the project and contact at mmoreno@mmprofuture.com