Dear all,
Our project, InterTrainE – Intercultural Training for Educators, is now complete! The project developed a free online research-based course on Intercultural Training for Educators of Adult Migrants, which is available via our website. All the material is free to use under a Creative Commons Share Alike licence.
Please register on our platform and check out the material! Successful completion of the course will give users a certificate worth 5 EQF credits.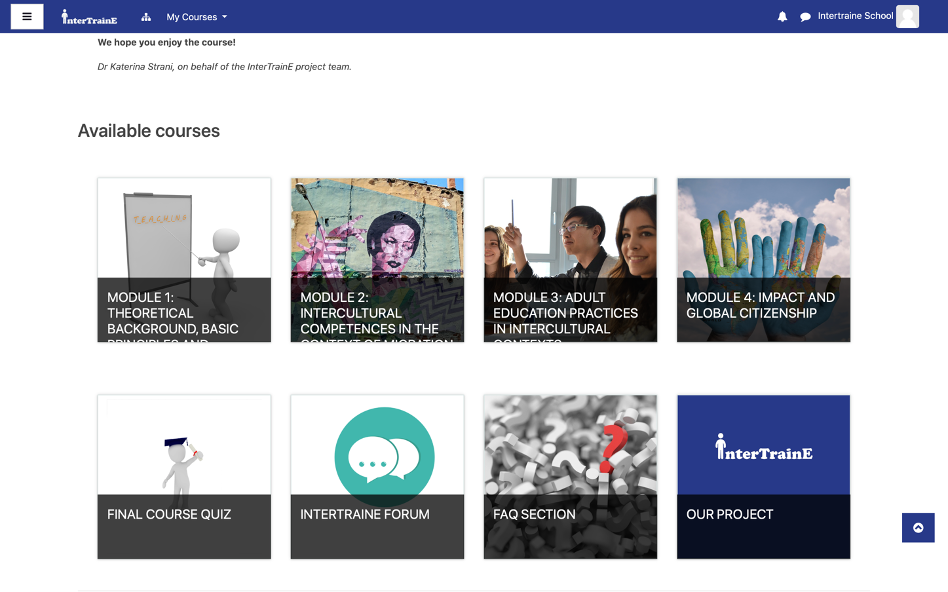 The course is available in 4 languages: English, Finnish, Italian and Greek.
Please spread the word and forward this message to anyone who may be interested.
Project website: http://intertraine.eu
Online course (English version): http://intertraine.eu/moodle/
Many thanks and best wishes from Scotland,
Katerina Strani
InterTrainE project coordinator
Heriot-Watt University, Edinburgh
---
Founded in 1821, Heriot-Watt is a leader in ideas and solutions. With campuses and students across the entire globe we span the world, delivering innovation and educational excellence in business, engineering, design and the physical, social and life sciences. This email is generated from the Heriot-Watt University Group, which includes:
Heriot-Watt University, a Scottish charity registered under number SC000278
Heriot- Watt Services Limited (Oriam), Scotland's national performance centre for sport. Heriot-Watt Services Limited is a private limited company registered is Scotland with registered number SC271030 and registered office at Research & Enterprise Services Heriot-Watt University, Riccarton, Edinburgh, EH14 4AS.
The contents (including any attachments) are confidential. If you are not the intended recipient of this e-mail, any disclosure, copying, distribution or use of its contents is strictly prohibited, and you should please notify the sender immediately and then delete it (including any attachments) from your system.