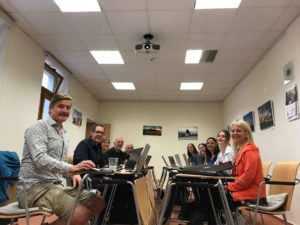 WELCOME TO THE THIRD NEWSLETTER OF THE "EXEMPLAR" PROJECT!
This time will tell you more about:
Our latest achievements and current activities regarding the EXEMPLAR Project
The 3rd Transnational Project Meeting
Short-term joint staff training event
WHAT HAVE WE RECENTLY ACHIEVED?
After the implementation of the 2nd Transnational Project Meeting in February 2019 in Austria, JKPeV, SEAL Cyprus, Auxilium and INNEO developed the learning content of IO1: Integration Leaders Curriculum.  as a modular training programme comprising of 8 modules with 2 learning units in each module and tested it with the local stakeholders. Each learning unit consists of a 5-minute audio-visual presentation and a comprehensive lesson plan with worksheets and Powerpoint presentations.   The Integration Leaders curriculum is designed to be delivered in a blended learning format and comprises approximately 32 hours face-to-face classroom-based learning and 32 hours of self-directed learning.
Rural Hub and INNEO developed the content for 12 integration resources of the IO2: Toolbox of Integration Resources in an appropriate media-rich format and tested it with the local working groups.
Each tool developed to comprise the following elements:
PowerPoint presentation with audio file and sub-titles,
Audio file,
Illustrated textbook,
Tutors handbook, a
Tutor aids to include worksheets etc.
COMING NEXT…
Our work on the project will continue:
JKPeV, ALK, Hub Karelia, SEAL CYPRUS and INNEO will translate the curriculum resources of IO1 and the integration resources of IO2.
Partners will produce the IO1 curriculum resources in appropriate media-rich formats for on-line and off-line use and will produce the IO2 digital toolbox of integration resources in all partner languages.
The fourth Transnational Project Meeting will be held 6th and 7th of February 2020 in Rzeszów, Poland.
Have a look at the newsletter PDF for more info!