Creative Inspiration: Boosting Creative Entrepreneurship & Digital Learning (Sofia)
February 18th, Thursday, 09:00 – 11:00 CET
If you work in a creative field, e.g. visual communication, UI/UX design, motion design, photography, copywriting, design, film, music, etc. – you are a student or you are freelancer, running a business where you have clients who pay for your creative talents, whether in the form of a service or a product, then the CreatINNES multiplier event in Sofia is the right one for you!
You will understand the creative startup ecosystem as a concept (differences/overlaps with innovation & entrepreneurship ecosystems), learning new insights, as well as expanding your professional network!
This multiplier event in Sofia is delivered by Budakov Films and supported by the New Bulgarian University.
Participation is online and free of charge!
Please, complete your registration form at:  https://www.creatinnes.eu/event-details/creative-inspiration-boosting-creative-entrepreneurship-digital-learning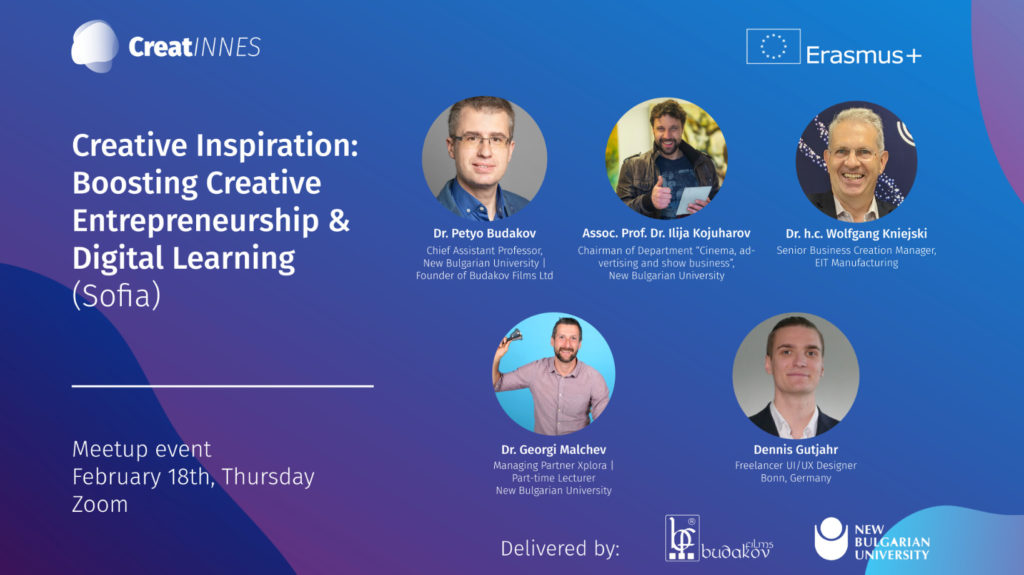 About CreatINNES
CreatINNES – Strategic Partnership for Innovation and Business Skills Development in Cultural and Creative Industries Sector" is a European project funded by ERASMUS+ funding scheme 2018 – 2021. We bring together creativity and business, exploiting the mutually reinforcing impact of the two to boost innovation and the growth of the economy, especially in European regions. Our goal is to provide support for CCI startups and freelancers via innovative training programs based on knowledge co-creation and cross-sectoral collaboration. We believe, on the one hand, in creativity as a shield against ordinariness and an essential component of long-term commercial advantage, and, on the other hand, in business competence as indispensable for turning creativity into innovation.
Our team is made up of a potent mixture of partners with extensive experience in education and trainings, blended learning, creativity and culture, entrepreneurship, business development, financing, innovation management, regional development, and tourism:
INI-Novation GmbH, Germany, www.ini-novation.com, coordinator of CreatINNES Project
BIC INNOBRIDGE, Bulgaria, www.innobridge.org
MEDF Skopje, North Macedonia, www.mrfp.mk
Budakov Films EOOD, Bulgaria, www.adacademy.eu
Teleberry Kft, Hungary, www.teleberry.com
Alanam, France, www.alanam.fr
Website: www.creatinnes.eu    Facebook www.facebook.com/CreatINNES  Twitter  #creatinnes
Best regards,
Mit freundlichen GrüßenPetyo Budakov, Ph.D.
Managing Director
office@bfstudio.eu