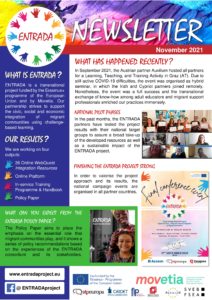 The ENTRADA project is finishing on November 30th 2021 and the project team is looking back on two successful years.
The transnational partnership from Spain (coordinator), Ireland, Austria, and Cyprus was supported by a silent partner from Switzerland. Together, the partnership developed 4 intellectual outputs:
◽ 36 Online WebQuest Integration Resources

◽ Online Platform

◽ In-service Training Programme & Handbook

◽  Policy Paper
In the past months, the outputs were tested in national pilot phases as well as in a transnational LTTA event. Now, the outputs are finished and freely available in our website: https://entradaproject.eu
To see more, click on the newsletter on the right to see it in full size!