Our social commitment
The fundamental principle behind E.N.T.E.R.'s existence is to provide a means for people and organisations across Europe to collaborate and exchange best practice and innovation to improve the lives of citizens, often quite disadvantaged groups and people.
We wholeheartedly believe that all people, regardless of their social background, economic wealth or nationality, should have the opportunity to make the most of their talents and fulfil their potential. Therefore we aim to support grassroots projects across Europe, that have a real impact on people's lives, which foster the development of societies and which also underpin common European values.
A good start in life for disadvantaged children in Eastern and South East Europe
We are determined that children, who for different reasons are disadvantaged, should not experience exclusion from normal educational, sporting and cultural opportunities. By receiving specialist support and quality assured access to a decent education, children can enjoy academic, cultural and personal development, helping them to ultimately become positive and independent people contributing to and making their own way in today's Europe.
Our first initiative is to support Roma and other disadvantaged children in Slovakia, Romania, Bulgaria and Bosnia and Herzegovina. Their lives are dominated by poverty, high unemployment and marginalisation on the edges of society. The plight of these children is especially serious, with many leaving school with few or no qualifications. Without assistance they would face very uncertain futures and a life of continuous struggle and poverty, here in Europe.
We have linked up with the charitable organisation Caritas Steiermark, which runs a number of initiatives in these countries to support disadvantaged children, giving them respite from the daily struggles of life. They receive basic school equipment and clothing, a hot meal, help with learning, much needed emotional support and freetime activities.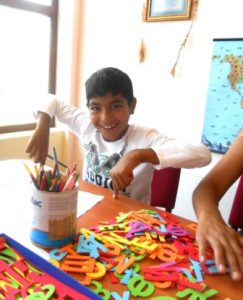 We donate 5% of all membership fees to support this essential work, allowing Caritas Steiermark to finance the following:
school set (rucksack, books, pencils, warm coat): €50
daily hot meal: €25 (per month)
learning and emotional support: €10 (per hour)
visit to a museum: €3.50
zoo, theatre and circus trips: €
children's learning and activity camps: €150 (per week)
Every time the donations of our members reaches €500 we send the money on to Caritas Steiermark as a symbolic school bag containing all these items.
So far we have donated:

For more information please visit the Caritas Steiermark website (in German). We will update the donation level quarterly and from 2016 our donations will be published in the Caritas annual report.
Thank you to all our members for supporting this initiative.
Together we can make a real difference.
From all in the E.N.T.E.R. Team