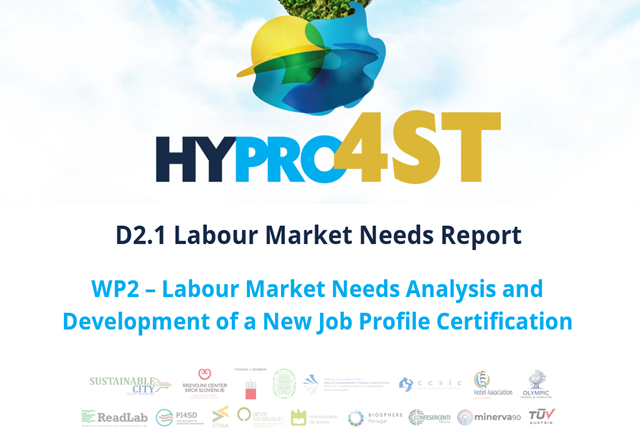 Societies are experiencing great changes and people are much more aware of this than before. Public institutions, businesses and local communities consider the green and digital transitions as a necessary step for their further development. Tourism, perhaps more than other sectors, knows these dynamics, as demonstrated by the success of so-called 'experiential' products and the importance of responsible practices such as that of regenerative tourism.
HyPro4ST project partners analysed the main labour market needs and skills' gaps in the tourism sector, with the aim to upskill professionals in sustainable, hybrid, digital, creative and entrepreneurship project management and develop a new job profile "Sustainable and Hybrid Project Manager".
The labour market analysis was carried out in all partner countries (Croatia, Greece, Hungary, Italy, Portugal, Slovenia), using a quantitative and qualitative research approach, including:
Administration of online questionnaire to over 300 stakeholders;
Organisation of focus groups and interviews (involving 37 experts in total);
Desk research on documents acquired from indirect sources;
Identification of 15 best practices.
Therefore, a considerable amount of technical and scientific texts was analysed, both during the preparation of the questions for the questionnaire and for the interviews, and during the desk research.
The analysis underlined the importance to ensure a hybrid managerial approach to the production and distribution of tourism services, as a response to the demand of greater professional skills based on strategies and flexibility. These skills concern not only the technical aspects but also ethics, creativity, and innovation. However, the development of these skills is not adequately supported by the training system.
The creation and consolidation of an advanced and transversal profile, such as that of the "Sustainable and Hybrid Project Manager", and also the provision of the appropriate training material to acquire this title can represent an effective response to the demand for change that modern society requires!
Some of the answers retrieved from the report are summarised in the graphs bellow.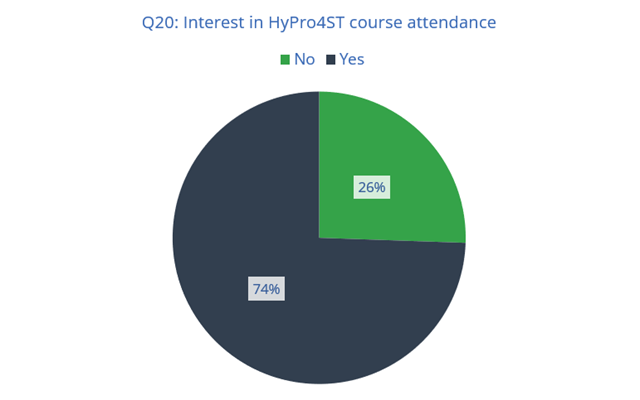 According to the participants, there is a high interest in attending the course for the job profile "Sustainable and Hybrid Project Manager" that will be created during the HyPro4ST project.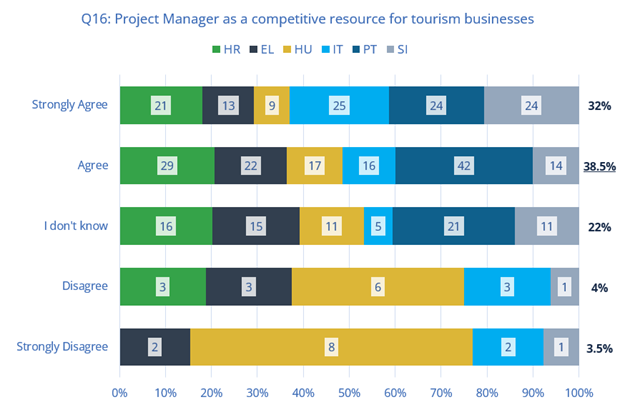 The participants agree that a Project Manager can be consider as a competitive resource for tourism businesses.
Would you like to read the full report? Visit HyPro4ST's 
website
!
The connection between project management and tourism is at the core of HyPro4ST project. Follow the project updates on
Facebook
and
LinkedIn
to learn more about its activities and resources!